| | |
| --- | --- |
| Rider Profile - Gee Atherton | |
Interview Taken From
http://23degrees-sports.com/gee.php
Name: George Atherton
Nick Name: Gee
Date of Birth: 26/02/85
Height (cm): 185cm
Weight (kg): 75kg
Residence: Oswestry, Shropshire, England.
Why do you ride: It's the only thing I feel like doing everyday.
What/who started you racing: My brother, Dan.
Weakness: Getting bored of doing the same thing for a long time.
Marital status: Single
Most important people in your life and career: Family & close friends
Racing since: 1998
Professional since: 2002
Best part of racing: Winning your own race
Hardest part: Being away from home, and also racing when you know you're off the pace.
Worst moment in career: When I found out that prize money at World Cup races was awarded to the top 15 places, and I hadn't collected it all year.
Best moment in career: Winning the 2003 Junior European Championships.
General career goals: To be the fastest DH mountain biker.
Favourite food: Bacon Sarnie.
Favourite reading: Philip Pullman; His dark materials.
Favourite music: Dre, G-Unit, Oasis, AC/DC, Black Sabbath...
Best idea of having good time: Skate park on BMX with my mates.
Favourite place to travel to: Canada
Most respected mountain bike riders: Dan Atherton, Greg Minnaar.
Other most respected athletes: Kyle Bennett, and Ricky Carmichael because of the way he trains.
Favourite riding spots and courses: Local U.K. tracks, Whistler Mountain, and Utah.
Advice to beginners: Concentrate on riding well instead of trying to go fast.
Other sports: BMX
Other interests: Mini bikes, Motocross, BMX, Skiing.
If I was not a professional mountain biker ... I'd be gutted!
Training week: I don't have a set training plan, just always riding.
Training "secret": Ride only when you feel like it.
Year 2003 Highlights:
2nd in Junior World Downhill Championships in Lugano, Switzerland.
Junior European Downhill Champion
Junior National Downhill Champion
Junior National 4X Champion
1st in National BCF Rankings for Downhill Elite Men
13th Overall in World Cup Downhill
8th in World Cup 4X Round 1 in Fort William, Scotland
8th in World Cup Downhill Round 5 in Kaprun, Austria.
Objectives for 2004:

To finish top 10 overall in the World Cup Downhill and 4X Series.
To be the National elite men's downhill champion of Great Britain.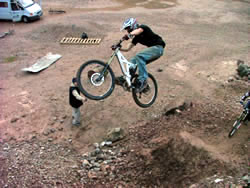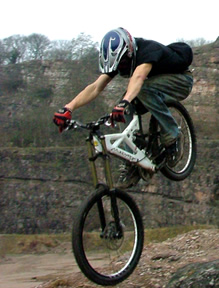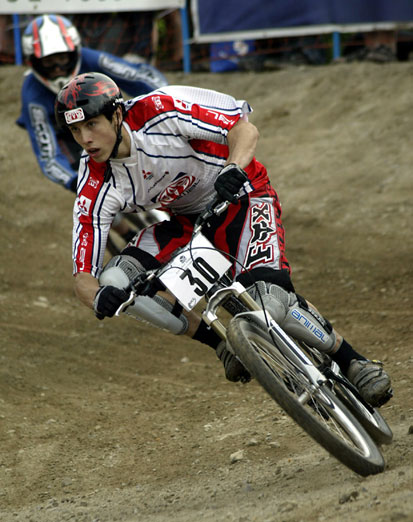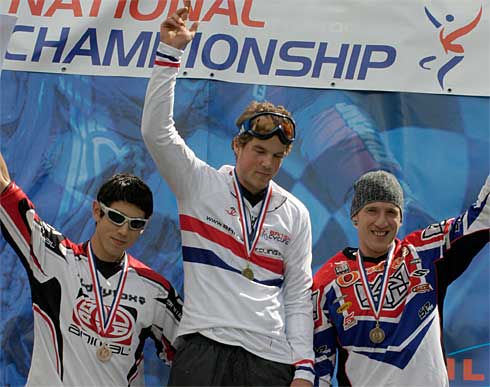 British National 4x Podium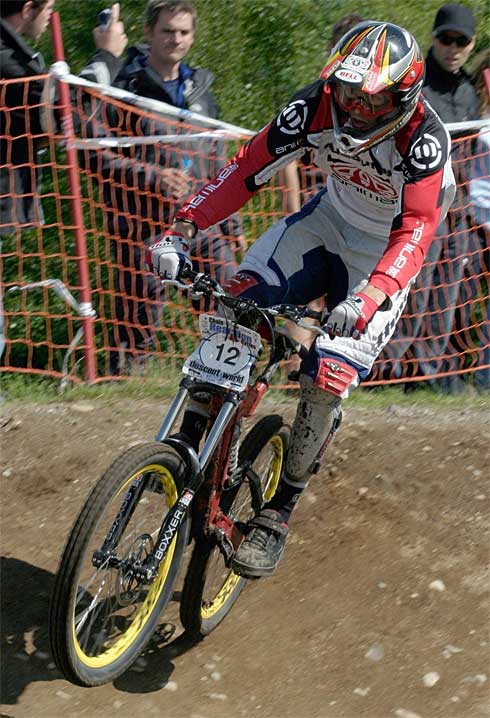 British National Champion