Pirate Ride #1: Dia De Los Muertos DH -
nov. 3rd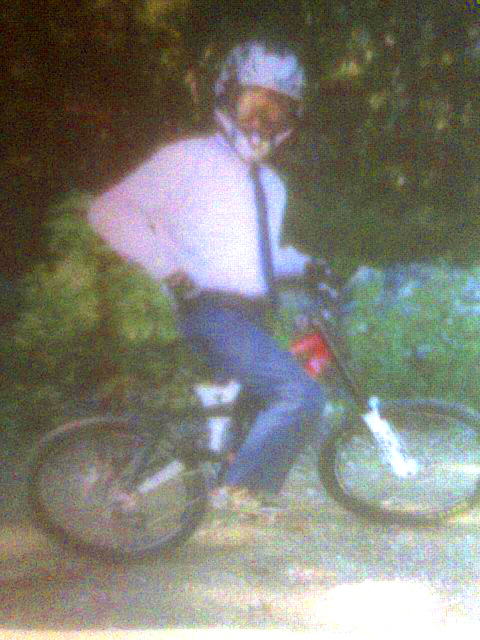 Shortly followi

ng the marigold infused holiday riders assembled at Greg's Trail, a.k.a. Forest Service 4, a.k.a. Waterman Ridge. Ride 1 was granted ideal conditions, clear sunny skies had the track tacked and packed for Saturday afternoon. With just thirteen riders present shuttles flowed easliy and without issue. Race favorite Sean Tetrault, arrived a bit late and dressed for church, barely getting a run before timed practice began. The hammerhead harbinger was suited in Sidis, slacks, long sleeve button down shirt, and navy blue tie. It was all business coming into the timed practice run. The confidence of all was growing and Tetrault's pleated pedaling power would be pitted against the intuitive skill and courage of Robbay Rhall. Brian Gerber was the first rider to drop

u

nder three minutes, despite suffering a crash which resulted in a hairline collarbone fracture. Devin Tranior would post an impressive time and set a stiff pace for the hardtail field. Joel Graves found himself fifth fastest despite a horrendous crash, off one of the trail's numerous waterbars, which sent him careening into a log. The crash also twisted Joel's chainguide making it very difficult to pedal. The top three riders were spread over three seconds; N

ic Loomis cruised dow

n third fastest, one second up was Sean Tetrault, and despite being one second down on Tetrault at the split Robbay Rhall was able to make up over three seonds in the lower half to seed fastest. Words were of course exchanged at the finish line, Sean T. acknowledged Robbay had likely not pedaled hard, before promising that his pedaling had not even begun.
The final arrived quickly and soon the cacophonous sound of the fastest seed could be heared far above on the ridge line. Rhall tore into the finish area at an impressive pace posting a time five seconds faster than his previous run, and with a split time only one second faster than practice, the boy had cut four seconds off the final half of his run in the roughest sections of the trail. Soon Tetrault ripped into view, the time too close to call. Pedaling across the line Tetrault was less than a second off of Rhalls' time. Loomis would hold onto his third spot cutting three seconds off in the final. Joel Graves scooted into fourth despite his wounds and twisted guide. Even more amazing was Brian Gerber's ride into fifth, adrenaline carrying him through the injury he would not confirm until two days later. Almost all were able to improve their times in the final, Devin Tranior held onto fastest hardtail honors, and Sandy Ross handed it to a number of the dudes despite a shock with blown rebound.
After the finals concluded fun runs bagan and Justin Graves, who had been recording finish line times, was offered a shot at a timed run. Rider Joel Dallas also got a shot at riding against the clock after riding way off course in pracitce and facing an hour long hike back up the infamous moto hill climb known as "F*#$ That S#!t!" Practice and Finals rolled into one resulted in Graves cutting another five seconds from Rhall's time.
Good runs, vibes. Thank Matt snyder for making sweet split times and more results dorking possible. Pirate DH, we the best.

Split times on a stained, crumpled, brown paper bag. Pirate style.

| | | |
| --- | --- | --- |
| Rider | Pracitce Split | Practice Time |
| Robbay Rhall (Jr.) | 1:04 | 2:34.84 |
| Sean Tetrault | 1:03 | 2.36.78 |
| Nic Loomis | 1:04 | 2:37.78 |
| Andrew Way | 1:05 | 2:46.65 |
| Joel Graves | 1:04 | 2:47.26 |
| Devin Tranior (H.T.) | 1:07 | 2:55.78 |
| Brian Gerber | 1:08 | 2:59.16 |
| Sandy Ross | 1:16 | 3:07.53 |
| Dave Campbell | 1:09 | 3:12.33 |
| Matt Deyoung (H.T.) | 1:11 | 3:15.28 |
| Bradely Anderson (H.T.) | 1:07 | 3:20.16 |
| Mike Langstaff | 1:20 | 3:54.34 |
| | | |
| --- | --- | --- |
| Rider | Final Split | Final Time |
| Justin Graves | | 2:24.54 |
| Robbay Rhall (Jr.) | 1:03 | 2:29.65 |
| Sean Tetrault | 1:00 | 2:30.39 |
| Nic Loomis | 1:03 | 2:34.52 |
| Joel Graves | 1:05 | 2:39.78 |
| Brian Gerber | 1:05 | 2:42.21 |
| Andrew Way | 1:03 | 2:43.78 |
| Devin Trainior (H.T.) | 1:04 | 2:53.72 |
| Sandy Ross | 1:14 | 3:04.45 |
| Dave Campbell | 1:11 | 3:05.59 |
| Bradely Anderson (H.T.) | 1:10 | 3:12.16 |
| Matt Deyoung (H.T.) | 1:17 | 3:14.65 |
| Joel Dallas | | 3:15.59 |
| Mike Langstaff | 1:28 | 3:59.52 |


All are invited to this free timed group ride.
Timed Training Begins at 1:00pm, Practice Before.
Be Prepared To Self Shuttle, Absolutely No Riding In Pickup Beds Or Otherwise Unbuckled!

Directions:


From H.W. 299 Willow Creek, CA Turn onto

Country Club Lane

at the Gas Station. This is a right if you are approaching from east of Willow Creek, a left if approaching from west of Willow Creek.




Follow Country Club

.8 Miles

, stay left on to

Seely McCintosh Rd.
2.9 Miles

in stay right at

Sun Valley Floral Farm.
4.8 Miles

in stay right on pavement toward

Hawkins Bar JCT.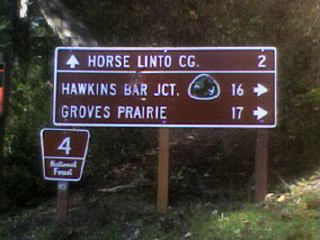 Follow pavement
2.3 miles
to finish line staging area.
Details: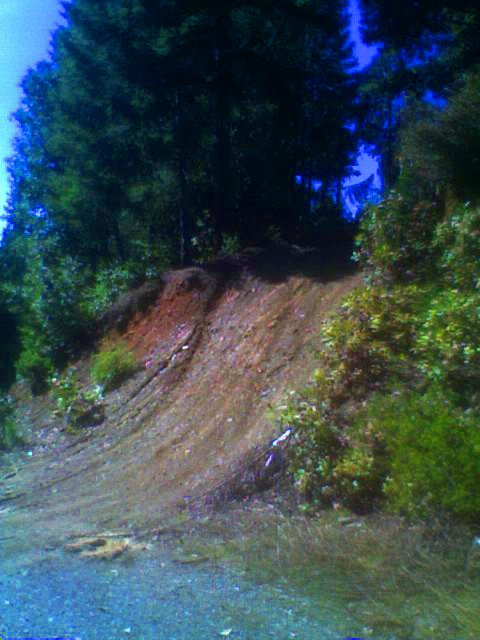 Photo of finish area stepup.
Course is high speed, rough double track with three brief uphill bursts. A DH bike is still recomended due to the rough "chunderous" nature of the trail. The course drops 900 feet in approximately 3-4 minutes. One rider was qouted as saying "F*#kin Awesome!"
2.5 miles shuttle, 75% paved, no 4x4 necessary.
All are invited to this free timed group ride.
---