Last Wednesady Night was Beautiful. The revolution was witnessed in full swing at Six Rivers Brewery in McKinleyville CA. The much anticipated realease of Earther 3 took place with fan fare and frolicking galore. An easy hundred enthusiasts stormed the pub for a night of cavorting and cackling, socializing and subscription to the evenings fine film philandering. Yes, I think all on hand fell in love with the gravity side of our chosen past time, if they weren't sold already, after witnessing some very cagey local action and the impressive world cup riding brought to us by our patron saint Alen Rankin. Aside from a brief technical episode and some mis placed product, the production end of the night went great. The brewery was very pleased to have us, especially after the film ended, the crowd left, and the live music began to a captive audience of three. It was very apparent what the draw of the night had been. There remained a couple of haggered harbingers of heady hops to trouble the dance floor till closing time, yet no lasting harm was done, not for lack of trying, and everyone involved walked away with something grand they had not entered with. Be it some killer schwag donated by Revolution Bicycle Repair, a better understanding of the ludicrous pace today's pros keep, or simply the amazing experience of witnessing just how many dedicated schmobbers we have in humboldt all were rewarded for their time this night. We look forward to doing it all again real soon, thanks for coming.
| | | | | |
| --- | --- | --- | --- | --- |
| E3 On Da Marquee | Happy Sets The Pirate P.A. | Final Prep | Backstage Rock Stars | Tiff Taylor Pirate Perenial V.I.P. |
| Senior Pirate V.I.P. And Company, Jake Todd | Standing Room Only | Standing Room Only | Stories Bled Into The Night, Scott McNeil | Good Friends, Fond Memories |
I am sure by now all of you loyal Pink Bikers and MTB forum frenziests have heard about all the contract swapping this week. It is exciting to me to see so much buzz surrounding the careers of our top gravity athletes. The big news was of course Cameron Zink signing with Haro, after two years shredding for Santa Cruz/Syndicate. Raising questions in my mind as to Cody Warrens Shopping, now that he has that fancy National Championship in his pocket. Of course the BIG news, the rider we all l love to hear about, Steve Peat has signed with Santa Cruz Syndicate for this season. hanging up the Orange/Royal Colors he has carried so proudly in favor of a program that can take better care of him on the road. So here's the question... Switching from Single Pivot to V-10, from homeland to distant shores, from being a solo rep to sharing a pit with Nathan Rennie? Will Peat be faster? Will this ride be what he needs to hang on? Click on the Poll and let the world know Peaty's fate.


Pirates In Whistler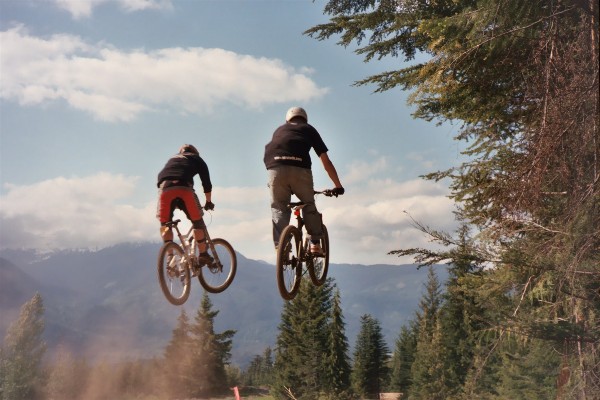 It was a ludicrous, last minute undertaking. Completely illogical red eye mission to the the heart of free ride, British Columbia. Three days, seventeen hundred miles, much less sleep, and enough incredible biking to make it all worth while. The notion was spawned by the usual shisety subject, Jed Olson. It was proposed as an alternative to giving up another jaunt to Ahsland Oregon for the Chutes and Ladders reboot. The premise was this; Jed's good friend Sam from Australian was going to be in B.C. for a matter of days, they had been trying to connect for some time, this was the closest they had been to one another, conveniently Sam was close to Whistler, so we kill two birds with one crazy stone, drive up there in just over a day, pick Sam and his wife Lyndsay up, cram everyone and their crap into Jed's Subaru, cruise to Whistler, ride for a day and a half, then drive back home all night so as to return to work the following morning.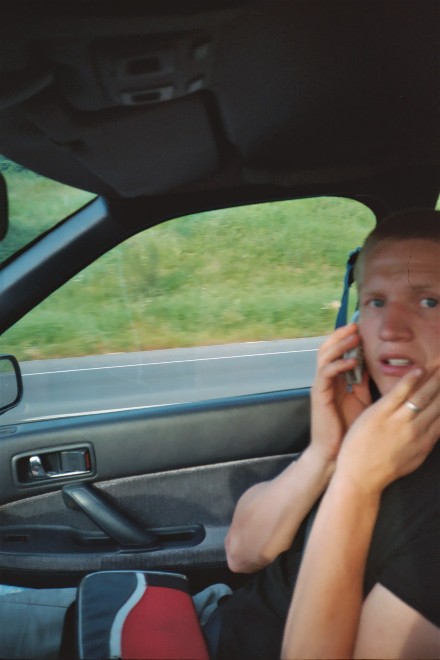 It began on Saturday, Jed was tied up all morning sending away some inlaws, while I was chilling and packing. Eventually he got back, and eventually we got our stuff in the car and hit the road. By the time this came about it was nearly noon and we planned to come up just shy of the Canadian border that night. We cruised hard all day, made good time, made good conversation that wasn't maddening anticipation of the riding ahead, and just took 'er easy. Ate some grub in a very strange town in Washington, filled with drunk Bingo players and tang gone sour, real sour. Without much to keep us there, and with both of our attempts to make contact in Seattle failing we pressed on to Bellingham. Jed had crashed there years before during a bike tour and thought we might be able to poach the same school grounds he had stayed at. It was pretty late by this point, nearly midnight, and turns out Bellingham has about twenty different schools, and twice as many police patrol cars cruising them all night long. So after sneaking around town, quite confused for a bit, we found a cutty little path that hooked right up to the back of a small school. Utilizing it entailed creeping by two wayward teens sitting in the back of a pickup, each sipping a 2 liter of Mountain Dew, and avoiding the Po but we managed. I carried the gear up the trail while jed parked the car on a nearby residential street. Soon we were comfortably bedded down next to a jungle gym on some very posh wood chips, snoozing and saving our energy for the next days activities.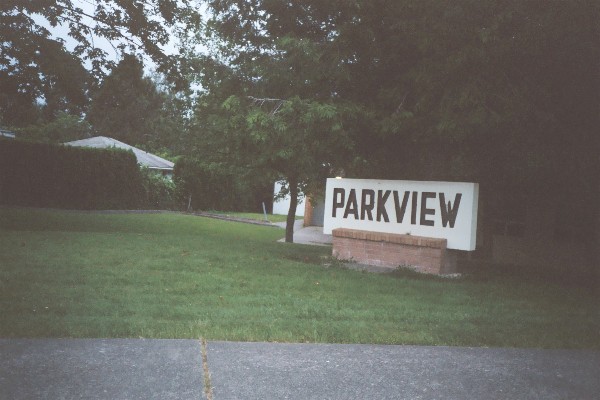 We were pretty much up with the sun, a bit before six, and heading out. Got away and down the street to our awaiting vehicle, which Jed had unknowingly parked in front of the local Marshals house. He wasn't up yet. We were soon on our way to Canada. With all the proper papers we made the crossing fine, without batting an eye as the female guard asked us "Do you have any little baggies of pot". Next stop was the town of Tsawwassen where the ferry was bringing Sam and Lyndsay in from Victoria. We ate some breakfast, marveled at the minor differences of the Canadian social landscape, and spoted the second skatepark in the small town right across the street. We unpacked the bikes and hit the park for a solid hour. Soon wearing out the provided terrain we resorted to plywood lips o our tool box and the bike rack, making sweet kickers where there had not been before. Once we tired out we loaded back up and headed for the ferry. After a fat wait, though a nice break to nap and relax, the friends arrived on the mainland and we headed north toward Whistler. Two brief stops added four 2 for 1 lift passes from the local Race Face rep., as well as a classy Stump Jumper (better known as the Dirt Merchant) for Lyndsay to ride.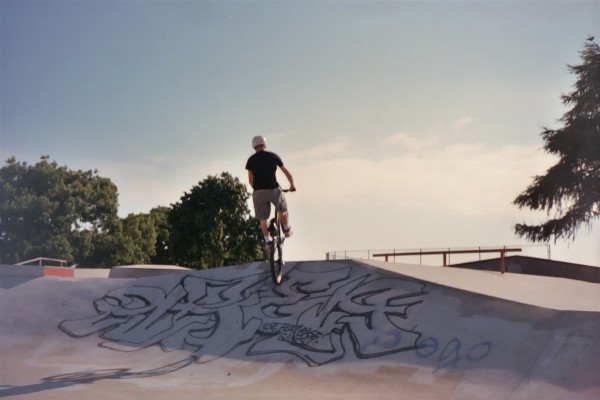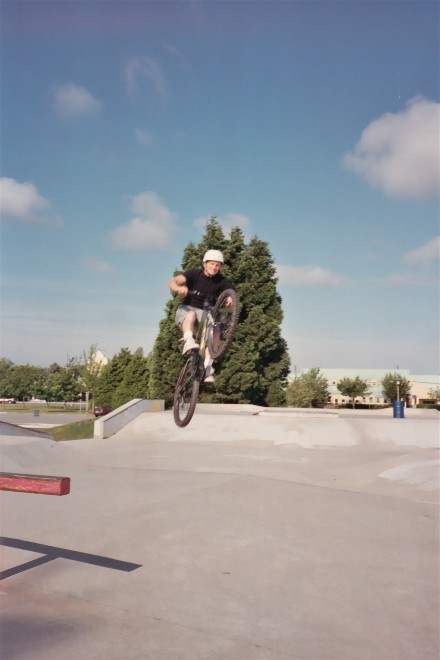 We were soon cruising through some of the most magnificent terrain I have ever seen, along the Sea To Sky Highway, and not soon enough arriving at Whistler - 1:30'ish on Sunday afternoon. The rest of the crew went to check in, Sam and Lynds had gotten a sweet condo, while I built my ride and suited up. The rest had decided to give up Sunday, but I was going to get every run available. Soon I was whoring myself out at the ticket booth for a 2 for 1 partner, found a nice girl to throw down the cash and got me $15 up lift for the rest of the day.
First run up i grouped up with some friendly Canooks who offered to show me some trail, unfortunately they lagged moer then expected causing me to step off my bike in a root garden and roll my ankle. It wasn't serious but the first run dab made me bitter. I tryed to ride with them once more but could not stand their pace, so I ditched and charged solo for the rest of the afternoon. Sunday the resort was packed, and the yuppy traffic was a bit disheartening as I tried to pin it down everything I saw. Along with the was the shere number of trail and line options down the hill, even with the upper Garbanzo chair not yet open for riding (spring skiers were still hitting the snow) there were enough signs and splits to boggle even the sharpest trial memory. I wasn't super impressed with the challenge of the A line jump trail, but soon found what I was looking for on the National Downhill double black. Serious pucker factor, with relentless rocks and roots top to bottom, on a slope that would not give. I found this to be a bit of a challenge. My second attempt was quite fast until I launched a siper steep log drop into a sharp right hand corner. The drop lands on a rock face with a shifty groove down the middle. I was floating ready to stick the corner until the groove grabbed my rear end and sent me down hard. Took the visor off my helmet, melted my knickers, and strained my hand. That made me question the integrity of my back for such abuse, but only long enough to go back to the top once more.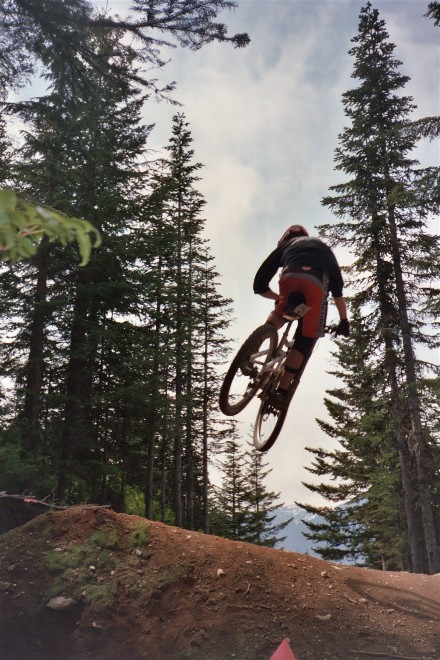 Soon the day was wrapped and we were grubbing in the village and sipping some suds. The suds made a reappearence later in the room, as all four of us decided to take a hot tup in the whirlpool unit. It was quite nice, as we were able to wash our dishes as we bathed. The boys then decided then would set a bubble bath world record, and soon had suds running out the door. A hard crash is about all that could follow such a party, and soon we were all down for the count.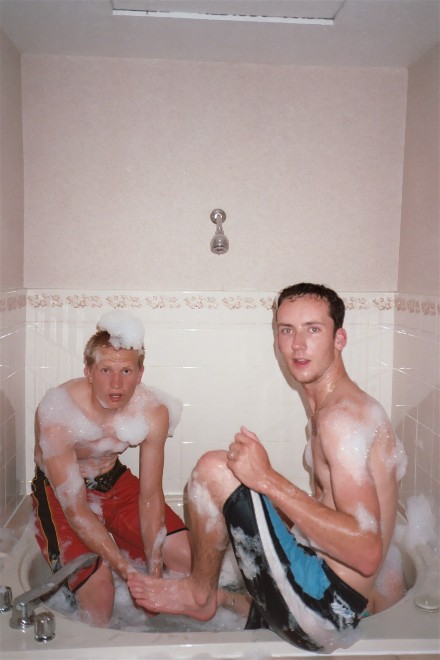 Day two at Whistler gave me the chance to ride with Jed and explore new trails and maneuvers. We rode non stop all day styling everything. Our second run of the morning put us on a trail called Clwon Shoes. Jed remembered it being pretty fun so we gave it a go. Before we knew it we were up on ten foot high skinnies with gaps and jumps in them, leading to severe drop offs, along with insanely steep chutes into 90 degree quickcrete berms. A bit intense for a morning warm up, or at anytime. We concluded that the Clown Show kick to the crotch wasn't exactly our style and moved on. Our next uplift paired us with an older greying gentlman on a strange unfinished bike. The bike caught both mine and Jed's attention, as we simply assumed we were riding along side another yuppy. As we cruised over the bike he yelled something at a fella below who happened to be Richie Schley, and Richie happened to recognize him and called him 'Hans'. As we chatted on the way up Jed slowly pulled out info. He lived in L.A., originally from Europe, was riding a prototype GT, had been a pro rider for 20 years, and his last name was indeed Rey. This got us pretty stoked as we played our way down, reinacting the conversation.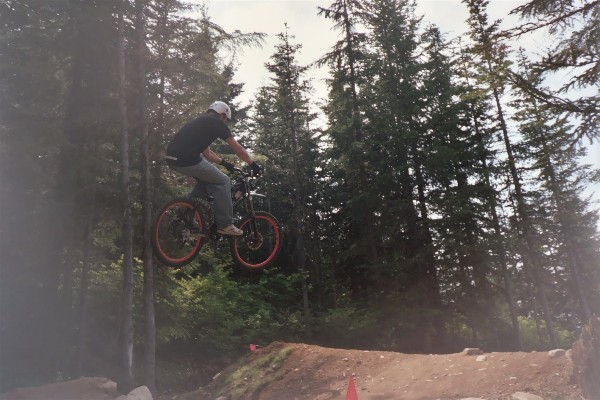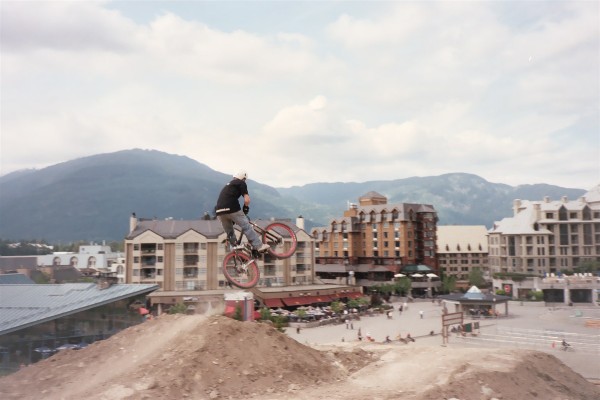 Being a non holiday Monday in Canada, our Veteran's day saw the mountain pretty empty allowing us complete freedom on course and on the lift. We jumped we hit steeps, we biker crossed, and we took some pics. What can you say about Whistler, it is good.

Soon it was done, and after stealing a shower down the street, another Jed scheme, we were back on the road. Dropped Sam and Lyndsay off in Vancouver at her brothers house, just in time to watch a student driver smash two cars trying to parallel park. Then Jed and I put the pedal to the metal, crossed the border without problems, and cruised on. The last bit is pretty much a blur. We talked a little about the weekend, but mostly just drove. We traded back and forth several times, and after fourteen hours straight we rolled back into McKinleyville at 8:30 am on Tuesday morning. Both of us thouroughly zonked, in disbelief at what had transpired.